I am a great fan of minimalistic Designs,Thats the reason why I love to use Quora blogs. Today I am honored to bring a Clean and Minimalistic Free Genesis Child Theme called Just Read.Just read integrates features of Tumblr with the style of Quora. Yes,You read it correctly…Its a FREE Genesis Child Theme . The primary objective of this theme is to encourage users to read…Thats why its named as Just Read.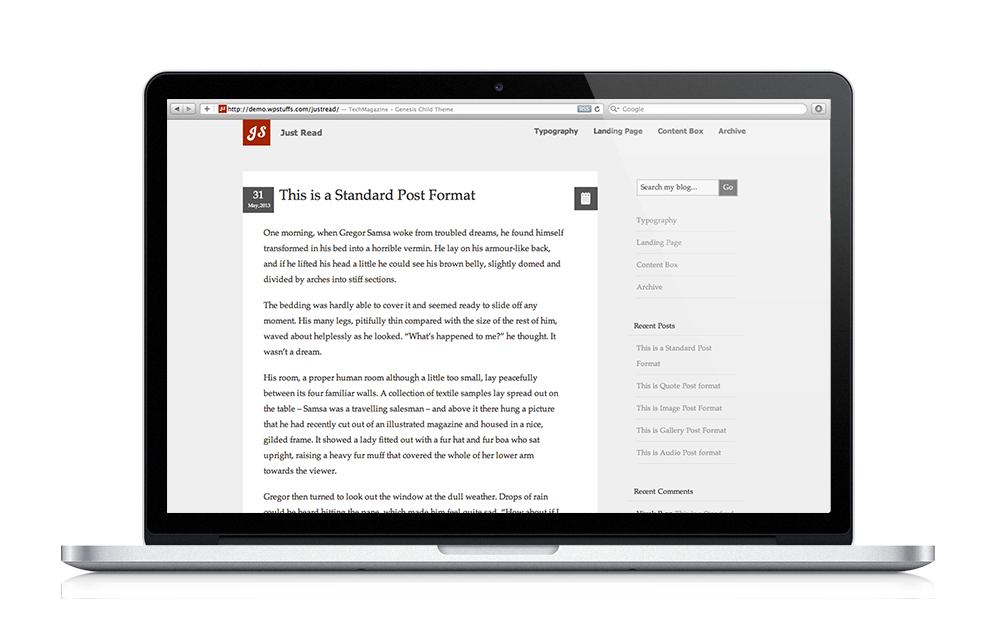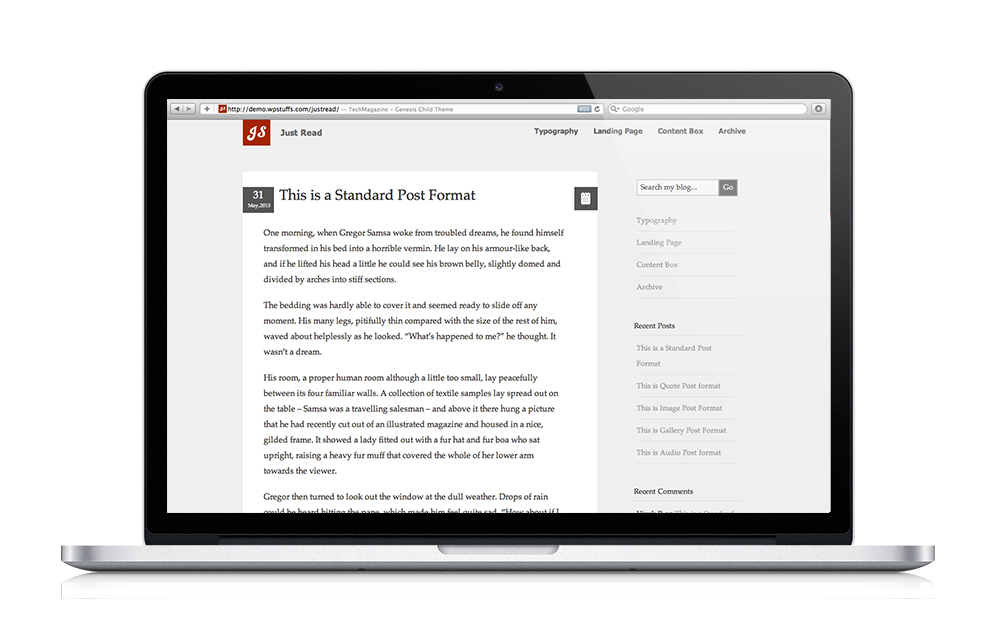 You need to
purchase Genesis Framework
 inorder to use this theme.Genesis framework enables you to quickly and easily create SEO optimized WordPress Websites.Popular blogs like Problogger,Copyblogger runs on
Genesis Framework
.
Features Included
Minimalistic doesn't means featureless.In fact Simplicity is the ultimate sophistication. Here is a list of features bundled with Just read
Post format integration (Tumblog)
WordPress introduced a feature called Post formats from version 3.1. That means you can build a blog like Tumblog, Apart from standard posts,Now you can publish Quotes, Image, Video,Chat etc.
Mobile Responsive
Growth of Smart Phone Technology can not be ignored while designing a WordPress themes. Thats why every theme I am build comes with Mobile responsive feature. You can test drive Mobile responsive feature here.
Minimalistic and Lightweight
Apart from post format icons,I just used a single web element (excluding favicon),That makes this theme fast and lightweight. I just ripped of many default features like main navogation, sub navigation and Footer widgets. You need to use Custom menu widget to display menu on top right corner.
Landing Page
Just read also comes with custom landing page template.You can use it to build conversion page.
Credits
I must thank few people who indirectly helped me to make this theme.
Future Updates
I welcome designers who are interested in helping me on enriching this theme.You can fork this theme on Github here. I have few plans to extend this theme,like adding portfolio.Other features will be announced as work progresses.
Custom Genesis Child Theme Design
Do you want to revamp your current website style ? Genesis is a great framework to start with.You can contact me here for custom Genesis child theme design.
Download Just Read
Theme is available on Github,You can download it from there or Subscribe to our newsletter and the download link will automatically land to your Inbox.