last update : 17 Aug. 2013
Few months back DIY Themes have launched the most awaited Thesis release: Thesis 2.0 with Child Themes support and custom Boxes in order to sustain in fast growing WordPress niche.
In previous Thesis versions you have to add custom PHP codes and css for adding certain new features.Now Thesis 2.0 make this process much easier by adding feature called Boxes.
Boxes are just like modules but works only on Thesis skins.For example you can add box for displaying Author info below the post or displaying custom Optin forms.
Unfortunately there ain't much free Boxes available for Thesis 2 but I have managed to compile a list of 12 Thesis boxes which you can download for Free.
Haven't Purchased Thesis yet ? Download Thesis 2 here
Author Box with Social Media Profiles
Author boxes are useful to display little info about author underneath the post.This a simple Author box displays Author bio and blog link along with Author's Gravatar image.
Additionally this author box displays Social media profiles like Twitter follow button and links to authors Facebook & Google Plus profile.
You can fill up the Author bio and social media profile links in individual author profile page.
Demo Download
Sliding Optin Form
As Social media is becoming too much crowded the Ideal source to communicate with your readers is through Personal Email.So many bloggers already realized this fact and started putting optin forms wherever possible in their blog.
This awesome Thesis box can easily accomplish this job with very high conversion rate.
Demo Download
Floating Sharebar for Thesis 2  NEW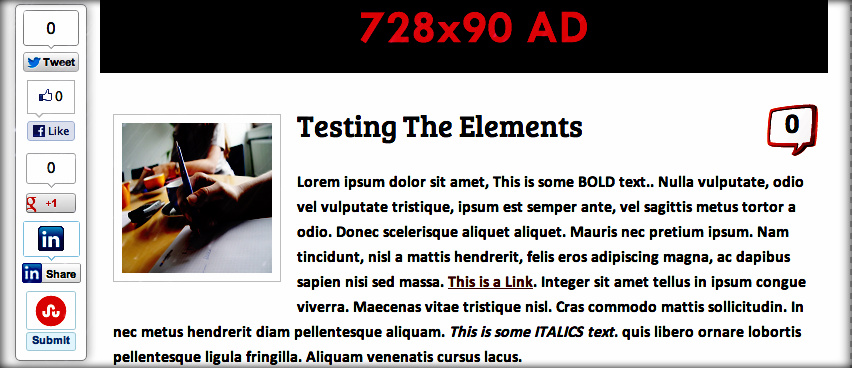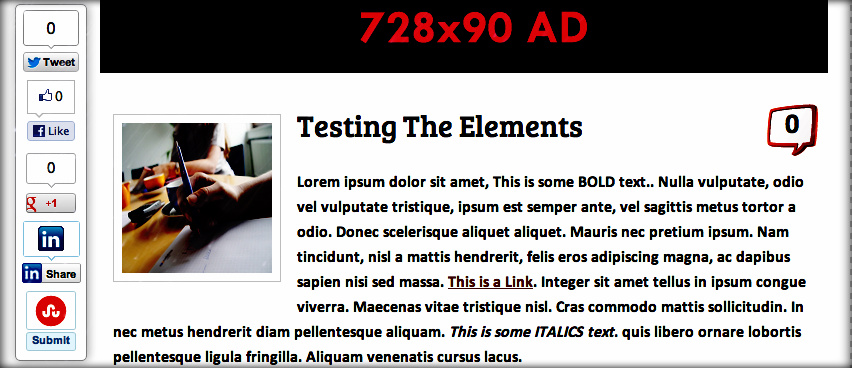 Forget about any other social sharing plugins now! Add our floating sharebar Thesis box. This box was developed to completely remove the use of a floating sharing plugin. Add the box, add your twitter @username and start increasing your social sharing like never before.
Note : Register for Free Membership option and download this box in members area
Logo Box for Thesis 2
In Thesis 2 there isn't option given for uploading your logo ,So you have to add logo by editing the custom CSS code.But here is a lightweight Thesis box to help you.
Logo box for Thesis 2 can get you the GUI option to add Logo with ease.
Social Sharing for Thesis 2
Here is a Thesis box to display Social Sharing buttons anywhere on the page.You can easily switch between Horizontal and Vertical buttons.
Parallax Content Slider
This Box adds a support for displaying Content slides.You can set the custom category or recent posts to be served as slides.
Demo Download
Related Posts
You can use this box to display related posts below every post.It gives options to change the Teaser Image dimensions and number of related posts to display.
With Little CSS customization you can easily blend it with your blog Design.
Category Posts Slider Box
This is one of my favorite Thesis 2 box.Its an elegant slider which can display your recent posts or posts from particular category.It has ability to set custom width and Location.You can add this slider anywhere in the layout.
Email Opt-In Box for Thesis 2 NEW


Sleek Email optin box by Thesislove,Works perfectly on Aweber email list service.You can easily edit the headline and description and even submit button text.
Demo Download
Other Boxes …
Tag Cloud for Thesis 2 – You can use this Simple box to add Tag clouds anywhere in your blog.
Thesis 2 Social Media Buttons Box – Sleek Twitter and Facebook sharing buttons to display it anywhere on your blog.
Disqus Comment Box for Thesis 2 – This box integrates Disqus comment box instead of WordPress default comment system.
Thesis Windy Box – Simple and elegant content navigation box .You can set the Image dimensions and category to be displayed.
Aweber Email Signup Box for Thesis 2  – Use this plugin to setup custom Optin form using Aweber code.
Thesis 2.0 Author Box with Google Authorship for Multiple Authors  –  This Author box comes with built in Google Authorship and social media profile links.
Comment Bubble NEW – Show the number of comments on any post with a stylish bubble box.
Numbered page navigation NEW – Now paginate your blog based on numbers with this awesome thesis box.
Full Width Optin bar NEW – This Thesis 2 box adds a beautiful full-width optin bar with your own customizable text and a stunning button that will make any visitor enter the details and hit the submit button!
Review Meta Box 1.0 NEW – You dont need to install any plugins for showing review box.Review Meta box is fully optimized for Google rich snippets rule with star rating feature.
Thesis 2.0 Related Post Box 1.0.3 NEW – Simple thesis box to show up related posts any where on your blog.
Free Breadcrumbs box 1.0.1 NEW – Thesis box to display breadcrumbs to make easier navigation and search engine optimization.
Thats all for now…Hope you enjoyed these freebies.
I will be updating this list frequently so please keep a eye on this post.