Google has evolved tremendously over the years and always introducing new ways to improve search results and relevance. Google Rich snippets is one such innovation which aims to improve the search relevance and to provide more information about the page within the search results.
For example if you are reviewing any product then you can show your ratings scale right into the Google search results. See the screenshot below, All IMDB movies ratings can be obtained within the search results


Similarly, Rich snippets can be applied for many other type of posts like An Event, Author, People, Products ,Recipe, Software Application and for video.


Implementing Rich Snippets in WordPress
Actually implementing rich snippets in WordPress is much easier, But given the fact that all pages which are optimized with rich snippet schema doesn't shows up in search results. Its because Google keenly watches the search results quality, So if you intend to spam this won't work out for you.
First you need to install and activate a plugin called "All In One Schema.org Rich Snippets"
Now create a new post by visiting Posts >> Add New
At the bottom you can see settings called "Configure Rich Snippet"


Now select the type of rich snippet you want to implement for this particular post.
After selecting the option, Few more fields pops out which needs to be filled correctly. In this case I am implementing rich snippet for review ratings. So I have selected option called "Item Review"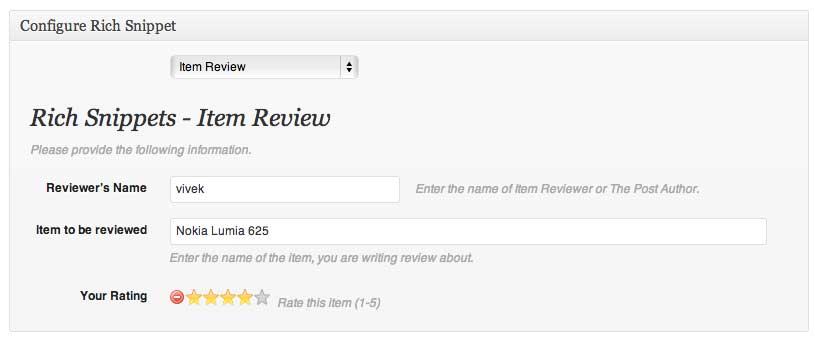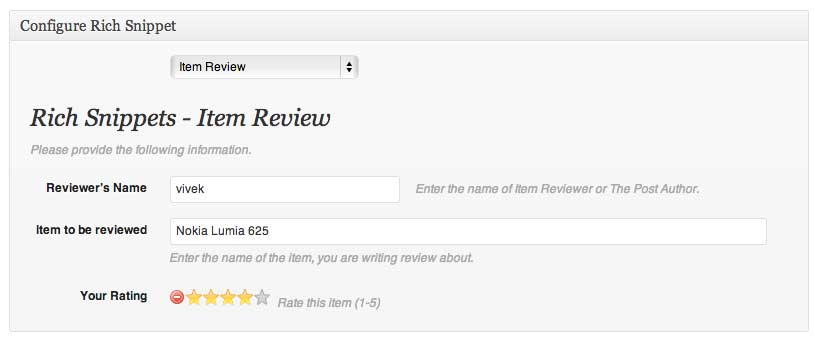 Now publish the post. You can see review box after the post like below. It varies according to the rich snippet option you chose previously.


Now to check whether rich snippet schema is correctly configured use Google Rich Snippets Tools. Paste the post url and click preview.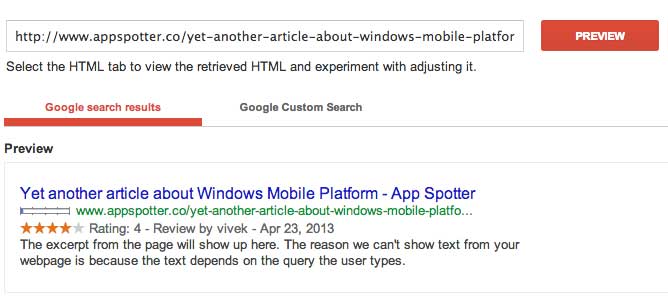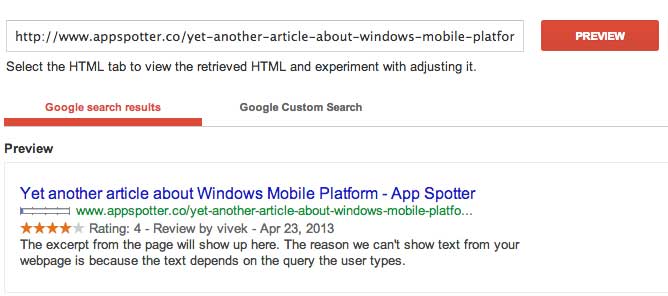 As you can see above, The published post is successfully configured to show rich snippets. Now its upto Google to approve it or not.
Similarly you can implement other Rich snippets schema like Event, Author, People, Products ,Recipe, Software Application or video.