Getting Google Adsense account is every bloggers second wish just after launching a blog.
Adsense is the best CPC advertising program which pays fantastic price and delivers highly relavent Ads.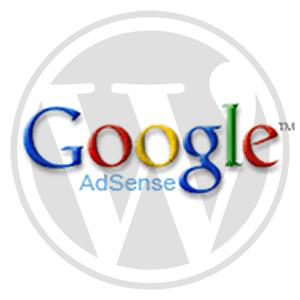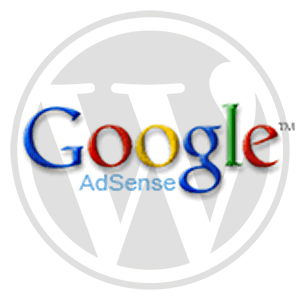 Getting Adsense account is relatively easy for bloggers than placing Ads where they want.I am an Adsense Publisher since 2010 and through these years I read and learned lot about Adsense.In this article I am going to reveal how I place Adsense Ads,almost anywhere in WordPress.
Though I employed various methods for placing Ad tags,One method which proved to be much easier for controlling Ads Placement is using a WordPress Plugin called Ad Injection.
Why go for Ad Injection
Ad Injection offers variety of options with very neat and understandable UI.FInd some of its features below
It has four Ad Placements
Top Ad – Ads below the Post Title
Random Ad – Ads in between the post based on Post length
Bottom Ad – At the end of the post
Footer Ad – Above the Footer (Below comment form)
Ads can be enabled/disabled based on type of content (Page,Post,Home page etc).See below Screenshot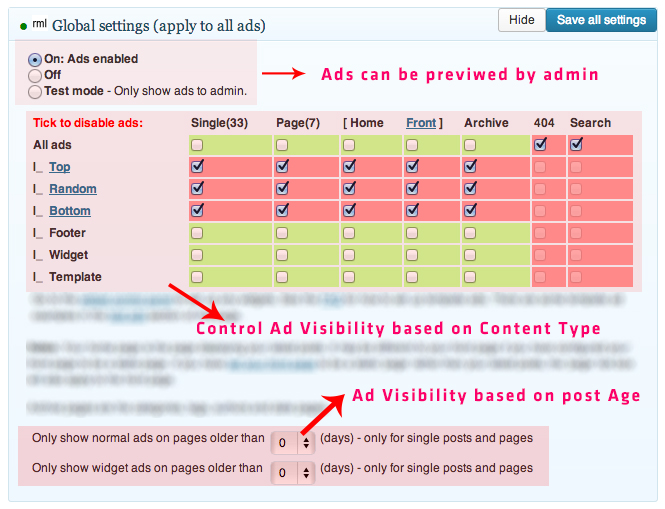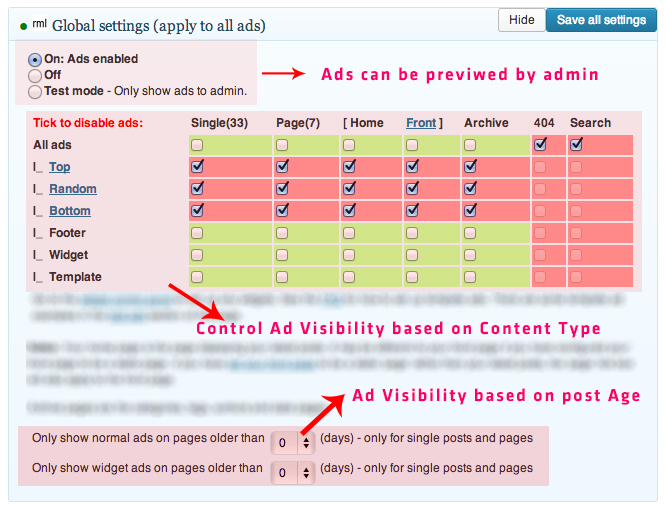 Number of Ads can be automatically adjusted based on post length.
Filter Ads based on Post Categories,Tags and Authors.
Ads can be enabled/disabled based on the post age.
Ability to rotate Ads.It can be used for A/B test.
No need to add any CSS for aligning Ads.Ads can be easily aligned,floated by inbuilt options.
Advanced Ad Injection Text widget can be used to place Ads on sidebar with various filters like post type,categories,tags etc.
Ads can be previewed by Admins before implementing it.
Install and Manage Ad Injection Plugin
Go to Dashboard >> Plugins >> Add New and search for the term Ad Injection.Install the first plugin in the result and enable it.
To manage Ads Go to Dashboard >> Settings >> Ad Injection
Placing Adsense Ads in between the post
Placing Ads in between post is incredibly simple with Ad Injection.You need to place the Ad tags inside Random Ad field under Advert settings.Similarly You can find fields for other Ad sections also.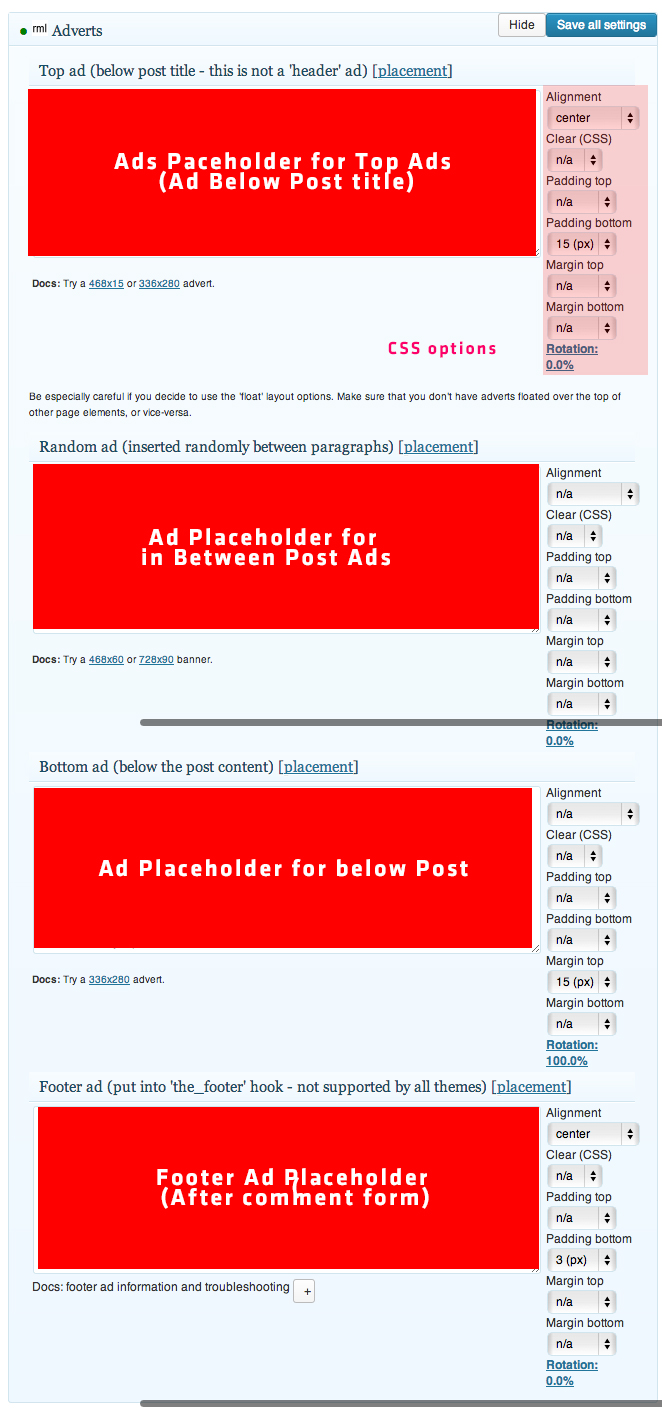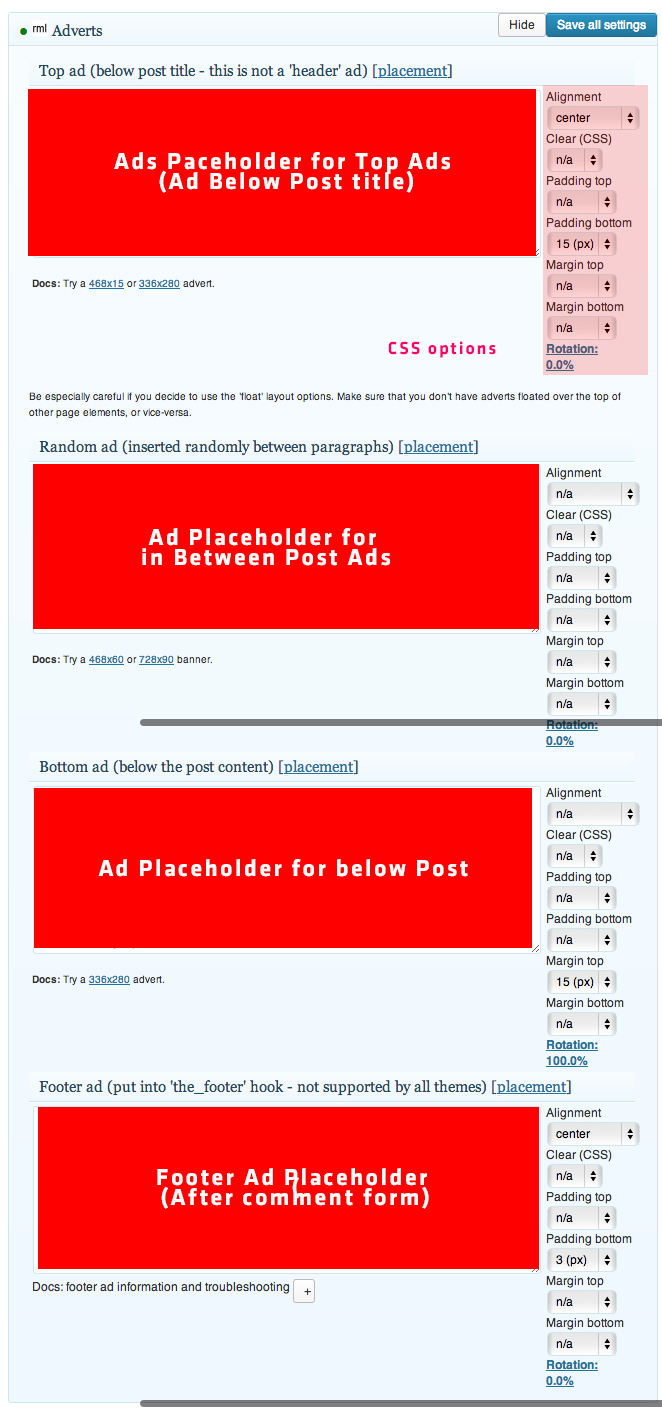 You can control the Ad placement and number of Ads based on post length.You can see the settings below Ad placement settings.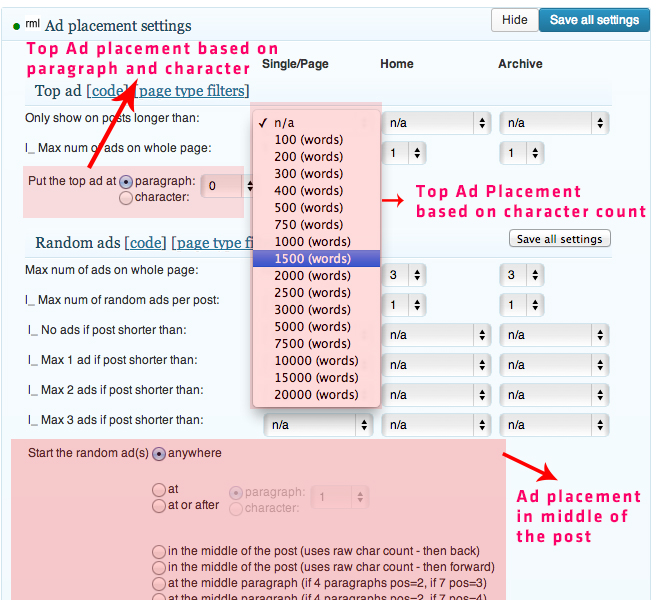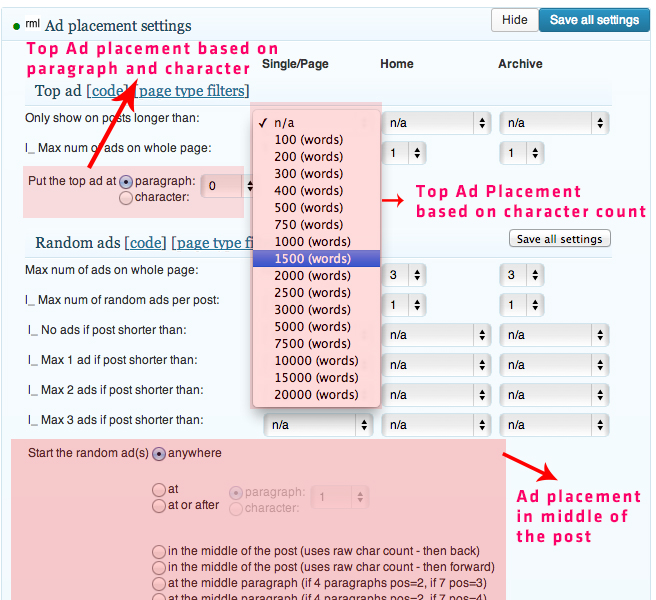 Other creative Ways to use Ad Injection
Apart from Ads you can also use Ad injection for various other tasks such as
T0 place custom Newsletter/Optin form
Announcements on particular post categories and tags.
To restrict Social media banners and buttons to certain post types.Like making it Visible in Home page only.
Pit Falls and its solution
Ad Injection is pretty useful but it has some drawbacks.For example,You can not place Ads above the header or after the primary menu.In such case you need to register new widget area where you want to show up the Ad and then you can use Ad Injection Text Widget.
Since I use Genesis Framework,I am quiet comfortable with the codes for registering new widgets.Genesis framework users can refer my previous articles titled Adsense Ads below Primary Menu on Genesis Child Themes and Adding Newsletter Widget below the content in Genesis Child Themes.
Speak Up
Have you ever used Ad Injection ? If not,Will you try this Plugin now ? or Have you found any other plugin much interesting than this one ? Lets have a chat right below