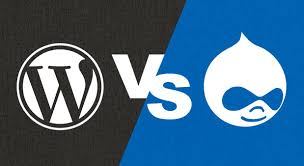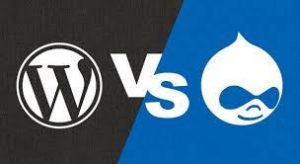 Truth bombs coming at you right now: your business needs a content management system or CMS. A CMS allows you to create and maintain a website, of any size, with efficiency. Better yet, you'll be a smooth operator when it comes to your content.
There's a lot of talk when it comes to the top two CMS on the market: Drupal and WordPress. An almost silent rivalry, it brings about questions such as which one is better for business. Before we get into the nitty-gritty, here are some neat stats on Drupal and WordPress both.
WordPress powers 28.9% of all websites on the planet, a huge achievement for the platform. This achievement has made WordPress the most popular CMS solution on the list. WordPress is the fastest growing CMS, with 500 plus new sites being built daily. A whopping 17 posts are published every second on sites powered by WordPress and 37 million global Google searches for WordPress are made each month. Impressive.
Drupal powers 12% of the top 100K websites, an impressive feat. Drupal has an estimated 1,580,015 websites either being used or with a history of using the platform. Drupal's growth skyrocketed in 2014 to over a million websites when version 7 was introduced. Unfortunately, growth has stalled in Drupal's case to around 1.2 million in the past two years.
Is there a clear winner? We believe so. You go wait at the finish line and we will start the race.
Customization and Imagination
When it comes to software, customization is super important for the wellbeing of your website. Your CMS will need to grow to meet your expectations or shrink to fit the changing market. Both platforms offer customization that is above and beyond those expectations. Is there such thing as too much customization? Maybe.
Drupal offers insanely complex customization features. Also known as the "developer's platform", even the backend administrative side must be customized prior to use. Drupal offers the ability to completely build a website from the inside out.
WordPress is known for being simple and easy to use, with an interface to die for. Still customizable, WordPress offers functionality that is out of the box and ready for use. Plug-ins are offered as an extra source of customization depending on the business' needs.
Drupal's level of customization will require knowledge and skill to get the platform up and running, which is okay if you have those resources. WordPress is known for being user-friendly, even when it comes to customization and can be easily tweaked through a tiny bit of basic know-how. Speaking in terms of imagination and customization in one package, WordPress comes out on top.
Getting to Know You
Any changes to software, whether personal or business, will take time to learn and adapt to. This time can interfere with other critical tasks and can also cost you in the end. As you are learning, or your employees are learning, time is money.
Drupal requires quite a bit of training to be used efficiently. The high level of customization required can hinder this training process as things change rapidly. WordPress will take training as well, however, the interface is known for being extremely user-friendly from the get-go. The easier a platform is to use, the faster you can get back to business as usual.
Optimization
Want those page views? You will need seamless SEO from start to finish. With Google's new algorithms and speed requirements for top of the page real estate, SEO should be a top priority when choosing your CMS.
WordPress offers plug-ins such as Yoast that will help make your pages and posts SEO friendly with easy plug-and-play functionality. WordPress also offers free website themes that are "responsive" which means they are perfect for viewing on mobile. Mobility and your website should go hand in hand, according to Uncle Google.
Drupal boasts an SEO friendly platform as well; however, it is optimized at its core. The built-in SEO tools, once customized, are seamless, easy to modify and automatic. Drupal is also known to support high volumes of traffic, containing huge amounts of content. Website speed is, without question, a boost for your optimization efforts.
Both platforms have it made when it comes to SEO and website optimization. You really cannot go wrong with either choice.
Cost
I know. This is important. Both platforms are labeled as free. However, it is difficult to tell how much a new CMS platform will cost until the project is complete. From start to finish, website design and CMS platform integration can cost hundreds or tens of thousands. What matters is the time it takes to create, the level of service required to maintain it and the additions needed to make it exactly what you need.
Drupal will ultimately require a lot of work in the beginning due to the high-level of customization. The overhead cost will be high. However, costs for maintenance will be considerably less. After all, the customization will do all the heavy lifting at the start.
WordPress boasts lower costs in the beginning due to the out-of-the-box startup. However, added plug-ins and tools that are billed monthly will add up. Over time, the costs could start to look the same between the two platforms.
There you have it. Overall, both platforms are killer CMS platforms, both with their pros and cons. However, the statistics don't lie. With WordPress growing exponentially and a brilliant age of technology upon us, WordPress has a more than promising future. In this market, one must be flexible, cost-effective and optimized. The perfect way to do this while keeping your sanity? We think WordPress is the answer.