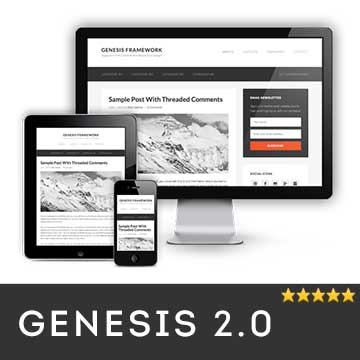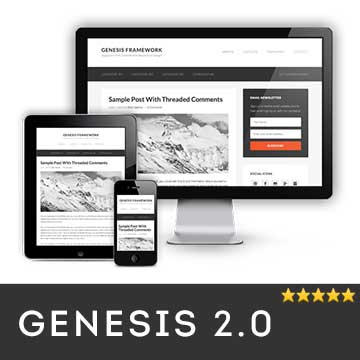 Finally, Much awaited major update of Genesis Framework officially released now. I was expecting for this update so long, delayed due to release of WordPress 3.6 update but I feel it hit the market at right time.
Introduction
Genesis Framework is one of a most popular and most used Premium WordPress Theme framework. Recently I came to know that Studiopress acquired more than 96,000 Genesis Users and thats before the release of Genesis 2. I expect their user base to increase rapidly in coming days.  I put forward few reasons for that conclusion
Yes, Genesis Framework comes with best price tag for its quality ($59.95), You can't even compare with its close competitors like Woothemes and Thesis Framework. Also there is no such thing like developer version, You can use Genesis in any number of sites and also distribute to your friends if you purchase Genesis Framework once.
I am experimenting with Genesis 2 beta version more than a month and what I conclude is, Genesis 2 Is the THE best update Genesis Framework  ever got. I never bothered about Genesis 1.x version after I made a switch, Nearly all my blogs and clients blogs runs on Genesis 2 now.
In this review I am going to discuss about Genesis 2 in different verticals like
Performace
SEO
Compatibility and Design
Note : This review contains affiliate links of the reviewed product but the review is purely unbiased and not influenced by any external factors.
Performance
I bet you will be amazed by the performance results of Genesis 2. I have analyzed demo site of Genesis 2 Framework using two different tools and the results are very positive and comparable. I guess folks at Studiopress really worked their ass off to achieve this.
First I used GTMetrix, Here is the result


The demo site loads incredibly fast, That is under 1 sec. Interesting thing is number of requests made and total page size. I doubt that you can achieve the same score if you use Genesis 2 because this depends on number of other facts like you hosting environment and Plugins you are using. But given that, Genesis 2 is still the fastest framework I ever used. When configured correctly I am sure you can achieve same results.
I have verified the above results with another tool here. Scores are exactly same.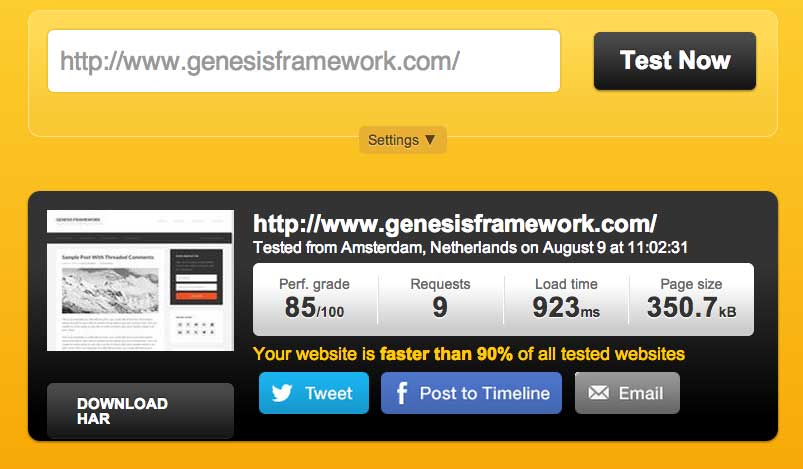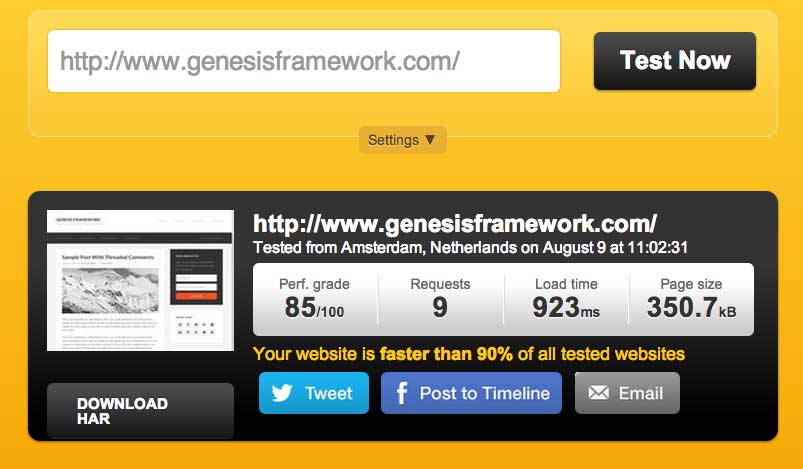 So those who want to know how Genesis developers did this. Here is your answer
Widget classes are now coded in PHP5 format
Admin CSS and Javascript are now minified
Inline HTML comments have been removed to reduce page size
Displayed entry IDs are now tracked (so they can be excluded from showing twice on a page)
SEO
Two new features introduced in Genesis 2 makes it different from the crowd. Its HTML5 Markup and support for Schema.org Microdata. Lets see how that affects SEO.
You know that Google is just a bunch of computer codes with some algorithms, So its not as smart as you or me. Here comes the microdata, It is used to specify what kind of page this is and how search engine should consider it. For example Google rich snippets are based on microdata, I can tell Google that this page is a review and I have this much rating to this product so kindly show this along with the search results.
You might have read my previous article on Implementing Google Rich Snippets in WordPress using plugin but with Genesis 2 you can do that without any third party plugin and You can implement almost any kind of microdata. (Refer Schema.org for list of microdata)
Microdata is used by different search engines like Google, Yahoo!, Bing and Yandex, Many popular services are adopting it slowly. I am sure this is the future of SEO, So be the first few people to adopt it early and get an edge over others.
For implementing microdata on Genesis 2 you can read these articles.
I have been using Genesis 2 beta version for one of my tech blog and I am seeing improvements in search results but I am not completely sure whether Its due to Genesis 2. I will update about this when I confirm it.
Compatibility and Design
Genesis 1.x child theme users need not to fear about the upgrade because Genesis 2 is fully backward compatible and you can easily switch between new HTML5 version and previous version.
As far as default design is concerned its is the best look Genesis Framework ever had and much better than its competitor. You can use it as it is for personal blog without any child theme.
Studiopress have released two child themes eleven 40 Theme and new Sixteen Nine theme based on new Genesis 2 version. Studiopress announced few popular child themes which will get early update to Genesis 2.
Present WPStuffs theme is also a Genesis 2 child theme and I built this under Genesis 2 beta. When I updated to Genesis 2 final version I encountered few problem but that is due to improved CSS code and change in HTML5 markup.
Features of new Genesis 2
Here is a list of few other changes and features added.
Better named loop hooks for HTML5.
Network Upgrade now upgrades the Genesis database for all sites in a network when running WordPress in multisite mode.
The Scripts option now has its own metabox when editing an entry.
Custom Post Type archive pages now have a settings page so you can control the output.
Entries without titles now display a permalink after the post content.
Conclusion
Finally, Genesis Framework prevails with Genesis 2 update. I believe it is the future of WordPress Premium Theme industry and Presently I don't  even have a single reason to deny Genesis 2.
Genesis 2.0 surely will be a joy ride for end users and designers alike. You can Purchase Genesis 2 Framework from here.
Genesis 2 surely will be a joy ride for users and developers alike.