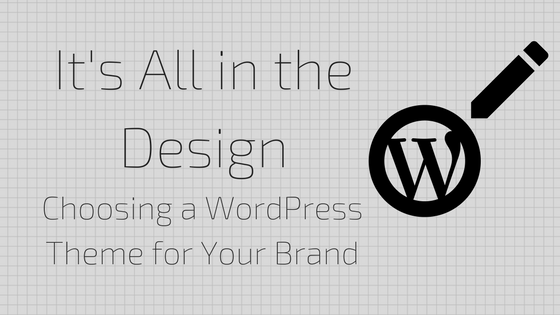 You've got the perfect website address, some killer copy and have made a list of your must-have widgets. Before you can push your business out into the WordPress world, your brand needs a boost of design power. A WordPress theme can take your website from nothing to something in a few short minutes, adding more oomph to your brand.
So, what exactly is a WordPress theme? How do you choose from the thousands of amazing options? And where can you find WordPress themes? You have a lot of questions and we have a lot of answers. Let's dive right in.
What IS a WordPress Theme?
For the sake of learning, let's get technical for a moment. According to WordPress itself, a theme is "a collection of files that work together to produce a graphical interface with an underlying unifying design for a blog. These files are called template files. A theme modifies the way the site is displayed without modifying the underlying software."
If you're lost like me, this may sound better: a theme is a bunch of stylesheets that come together to make up the appearance of a WordPress site and how it is displayed. Each theme will have different features, layout, and design that can be customized to fit your brand and your site requirements.
Getting Started: Free…or Premium?
To start finding that perfect theme, you first need to decide if you need a free theme or a premium theme. Although WordPress has given you a ton of options for free themes, you may find that a premium theme fits the bill. Let's look at the key differences here, starting with free themes:
They're free.
The options and settings are limited.
The coding may or may not be up to par with the movement of your website.
They're simple and easy to look at.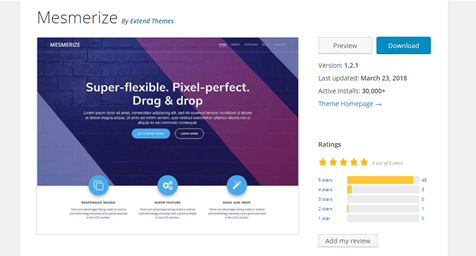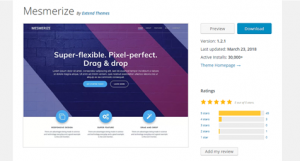 (Mesmerize Theme, WordPress.org)
When it comes to premium themes:
There is a charge to use them.
They are high-quality.
There are plenty of customization options.
They are sometimes complex.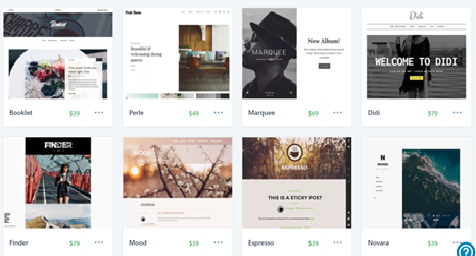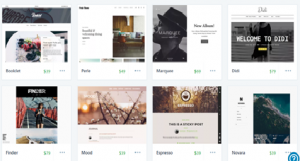 (Various premium themes, WordPress)
Both the free and premium sets of themes have good options, depending on the type of website you're building. For a personal blog, a free WordPress theme would work just fine. For a small business, a free theme could work until you are ready to upgrade. For a larger business perhaps one that sells products online, a premium WordPress theme with more options is probably the way to go.
Techy Points to Consider
Once you choose whether you wish to purchase a theme or choose a free one, it is time to discuss the techy points you need to consider when deciding on a new theme. This will be everything on the backend that you will need to consider, outside of the actual design. You may want to take notes.
Is the theme responsive?
Most readers are using their mobile device or tablet to read their favorite blogs, shop online and more. The use of mobile is growing exponentially. You will want to choose a theme that is responsive, which means it is made to look great on all devices and move properly at all device speeds. Choosing a theme that isn't responsive will not only be difficult to navigate but will also destroy your SEO efforts.
Is it SEO-friendly?
Speaking of SEO, you will want to choose a theme that is made to run SEO plug-ins such as Yoast and that has the capabilities of being SEO-friendly. Otherwise, you will be trying to steer a sinking ship.
Is social media built-in?
You MUST have social media buttons built-into your website. Having them already built into your theme will keep you from downloading too many unnecessary plug-ins, helping to keep everything organized and nice to look at.
Do you have support?
Whether you choose a free theme or a premium theme, you will want to have support options for any questions you have along the way. Sometimes, things break, and you will need to have support there to help you fix it – otherwise, you're on your own.
The Fun Part: Design Points to Consider
Now that the techy must-haves are out of the way, the design part is the fun part. You will need to have a clear idea of how you want your brand to be communicated online. There are literally billions of ways to customize your website, but only one you. Choose wisely.
How do you want it to feel?
Take a moment to think about your brand. How does your brand make you feel and how do you want your audience to feel when they see it? Are you a blogger who travels? Maybe you want it to speak adventure. Are you a spa business? Maybe you want something relaxing and simple. Once you decide on your brand's feel, you can move towards finding a theme that delivers it.
What color scheme do you need?
Most themes come customizable, so you can choose a color scheme that fits your brand. However, make sure these options are available before deciding. Did you know that colors affect our mood? You will want to choose a color scheme that fits your brand's feel.
Consider the Focus.
Are you a photographer looking to build an online portfolio? There's a theme design for that. Are you a small business looking to advertise new products? There's one for that too. Whatever your focus is, you will want a theme that shares that same focus. Most of the themes are placed into categories for easy searching.
Where Do I Find a Theme?
WordPress offers options right on the website as soon as you sign up. However, there are also other websites that have high-quality options for you to choose from. They include:
And many others. It is best to do some research prior to making a choice. Chances are, there is a theme out there that fits exactly what you are looking for, across these many websites.
There you have it – the guide to choosing the perfect theme for your brand. If you are ready to take your web presence to the next level, it is time to embrace WordPress and all it has to offer. Choosing a theme and making it your own is a fun and important step on the road to going viral.