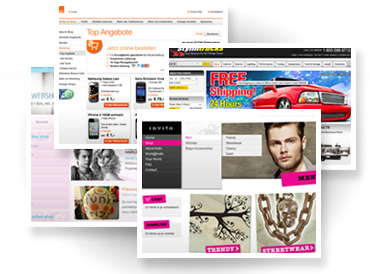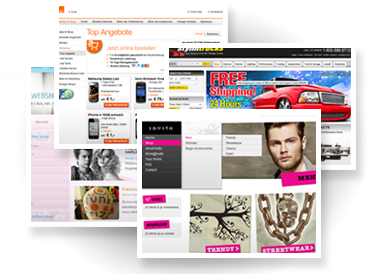 When creating an online store, it's important to realize that website design will directly affect your profits. The fact is not every startup business can afford to pay for custom website design. Fortunately, it is not necessary to have a large capital investment to build an online store. But you'll definitely need some creativity and business savvy in this regard. Using an ecommerce shopping cart software solution, a business can create a professional looking website where both its brand and budget will not suffer.
These types of software like Shopify offer premade templates to make the process of website creation more affordable and manageable. Some templates are free while premium ones can cost anywhere from $80 to $180. This is a very reasonable price for a new business owner who may be working on a tight budget and/or wishes to launch the business as soon as possible.
These themes are high quality since their design and layout are all created by professional website designers. One thing you do have to consider about working with premade templates is the fact that they were not specifically designed for your particular brand. Therefore, it is absolutely necessary that you understand your business and your target audience completely so you can choose the right template for your ecommerce site. Here are some things to consider in choosing the best online store template.
Design
When it comes to ecommerce websites, it's not primarily about having a cutting-edge and flashy design. Certainly, an online store has to be appealing to draw visitors in. More importantly, however, an online store has to be functional and user-friendly. When choosing your website template, put the user experience first. Choose a layout that will allow your visitors and customers to easily do what they came to your site for – to shop. Stick to a simple and intuitive layout and design that will make site navigation, product searches, and shopping workflow easy. Keep in mind though that simple doesn't have to mean boring. Use white space, a vital part of website design as pointed out in web design article, to make your images pop and text blocks more readable. Add some creative touches and interesting content to make your website stand out, to reinforce your brand or to provide a fun shopping experience.
Features
A good design will be useless if your website lacks the necessary features, some of which may be specific to your business only. You can get ideas of what features to use from other websites in your niche and combine this with your own understanding of your business to determine which features you should include on your site to attract visitors and customers, entice them to make a purchase and provide an overall satisfying shopping experience. There are numerous features you can add to your site including:
News Section where you can post upcoming deals, sales period or events;
New Products Section for customers who want a quick way to see your new inventory;
Popular Products Section for customers who are not familiar with your product line or not sure what to buy;
Search or Advanced Search Box to help customers locate a product in a large online store;
Store Finder to help customers who prefer to shop at an actual store to locate your national or local retailers nearest them;
Icons of Payment Options to quickly inform customers ahead if their preferred payment method is accepted in your store.
Color Scheme
The color scheme of your website will help form your online identity so it's important to choose it carefully. The easiest choice would be a color scheme that will match your business and brand. Start with one color that best represents your business identity like the most prominent color in your logo or products. Then choose two more colors to form a monochromatic, analogous or complementary color scheme, which would give your website a harmonious look.
You can also trycolor psychology which, involves techniques that use color to influence customer perceptions. For instance, yellow and red is often used to evoke excitement while a black-and-white combination gives a formal or clean appearance. A blue-white-gray palette is calming while shades of brown evoke warmth and coziness. Analyze how you want customers to perceive you and choose a color scheme that can best create that impression.
Customization
Look for a template that is simple to customize with a layout that can be easily manipulated according to your preferences. Ideally, the template should use HTML code that will allow quick changes to be done to the website design from the backend so you can change the color, background, font, and other elements of the template with ease. If you don't know HTML, which is defined by w3.org as the markup language used for web page creation, don't worry. Most templates can be altered without you touching the code. Customizing your site is fun but don't get too carried away. Remember, you don't want just a pretty website but one that sells too. So, make sure that every element added or changes done to the website template should have a purpose that will benefit your online store. Otherwise, you're just cluttering your site with features that are unnecessary and can detract from the customer experience.
Browser Compatibility
As you know, there are different Internet browsers. One browser can display your website differently than another, which can affect not only the appearance of your site but also user experience. Therefore, it is important that you choose a template that is compatible with most if not all web browsers to give visitors a consistent look and feel. Also, it's very important nowadays for businesses to adopt a mobile strategy because of ever-increasing mobile device usage. Therefore, make sure to choose a template that is also compatible with mobile browsers. Many ecommerce website solutions do offer mobile-friendly templates so you can be sure your online store will display on a range of mobile phones and tablets.
With hundreds of website templates out there, something as seemingly simple as picking out a template can be difficult. But with the above tips in mind, choosing the right ecommerce website template for your online store should be less daunting. Once you've selected the right template, study how it works, and learn how to best maximize its features to create a superb online store.