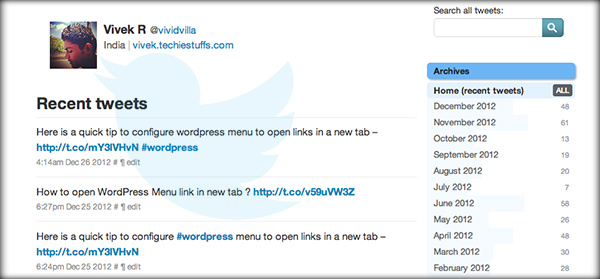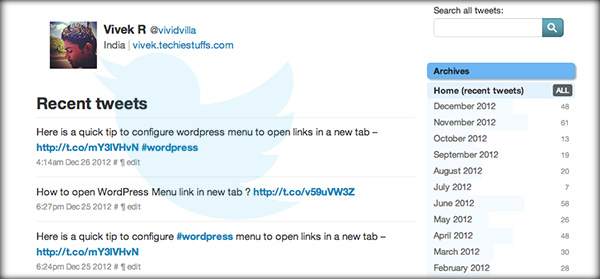 Are you a Die hard Twitter fan ?
Do you want to know the month in which you posted a most number of Tweets ?
Do you want to find your older Tweets without any trouble ?
Would like to convert all your Tweets into a blog categorized based on the Hashtags, Months and Years ?
If your answer is YES…follow this article.This is for you.
Recently I have stumbled across the WordPress plugin called Ozh Tweet archiver .With this plugin you can convert all your tweets into a WordPress blog.Each Tweet will be automatically fetched and published as a post. These Tweet posts can also be tagged according to the Hashtags.
The coolest part is You can add a Widget which shows number of Tweets per month and other Twitter facts.Just checkout mine here.
Here is how you have to use this plugin
1. Install a fresh wordpress in your blog subdomain or sub directory.I have created a subdirectory called 'tweets' and my blog URL looks as – http://vivek.techiestuffs.com/tweets
2.Download  Ozh Tweet archiver Plugin.Install the downloaded plugin and activate it.
3.Go to Dashbaord >> Settings >> Tweet Archiver.
Add your twitter handle in Twitter settings.
Under Plugin settings you need to set refresh time,Set this according to your Twitter activity.
Select the Post Category under which all the Tweets will be categorized.I have created a new category called 'Tweets'.
Select the post author whom you want to assign these Tweet posts.
Now you get a option called "Link @usernames" and "Link #hashtags" . If you enable these options then usernames and Hastags will be linked to their corresponding Twitter URL.
for example
@vividvilla will be linked to http://twitter.com/vividvilla
#wordpress will be linked to http://search.twitter.com/search?q=%23WordPress
finally you have option called "Add hashtags as post tag" by enabling this option your Tweets will be taged under the specific hastag mentioned in the Tweet.
You can check out the below Image.
Ozh Tweet Archiver Settings
Once you save the settings you will get a option to take a manual archive of your old Tweets.Go ahead with it.
Take Manual Archive
Now you can see that your tweets are being automatically imported,Just wait for this process to finish.

Thats it sit back and relax.Your Tweet blog will automatically fetch your future Tweets.
Note : This plugin blends perfectly with Ozh tweet Archive Theme but you need to tweak this theme before you implement it.Take a look at my Tweet blog,It runs on Ozh tweet Archive Theme.
Just ping me if you want any help optimizing this theme (Dont worry I wont charge for this 🙂 )
If you feel this article is worth sharing…then SHARE it.