It is very essential to periodically clean up your WordPress blog,because over a period of time various unwanted clutters like old WordPress Core files,post revisions,Spam comments etc will  get accumulated automatically.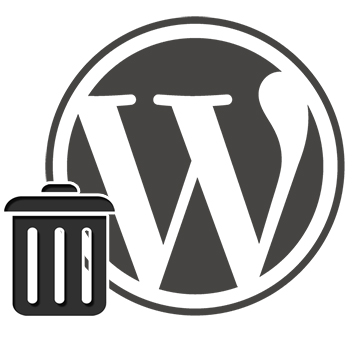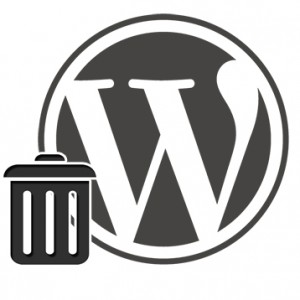 Cleaning up these junks might prove very beneficial,Some of the reason to perform clean up are
Maintaining good blog speed
Enhancing the security by shutting the back door for Hackers.
Taking Backups easily
You can split up the cleaning process into three Phases
Phase 1: Cleaning up unwanted plugins and Themes (Manually)
Phase 2: Optimizing the Database by trashing clutters like unwanted post revisions,Spam comments etc (Automatic)
Phase 3: Deleting the old WordPress core files (Automatic)
Now lets begin the clean up
Phase 1
Its a good practice to remove themes and plugins which is no more in use.Please take a complete backup of your files before deleting anything,because you might trash a premium themes or plugins which you purchased.
Delete Unwanted WordPress Themes
Go to Dashboard >> Appearance >> Themes and you will see a list of  Themes installed.Pick out the themes which are not useful any more and delete it one by one (Bulk delete can not be performed here).
I request you to keep the copies of default WordPress themes like Twenty ten,Twenty eleven and Twenty Twelve,Since these themes acts as a fallback themes(Wil be enabled when your current theme fails).
Delete Unwanted WordPress Plugins
Plugins are the great way to add up new features to your blog but it must be properly handled,otherwise it might slow down your blog and poorly coded plugins can be used as a back door by hackers.
Go to Dashboard >> Plugins >> Installed Plugins and you can see the list of installed plugins.
First step is,You need to pick out the plugins which are essential for your blog.Please make a wise decision on selecting those plugins because sometimes its good to make a tradeoff between  a new feature and sites speed/security risk.
First disable the plugins which you are going to delete.You can select multiple plugins at once and can diable all at once by bulk actions option.
Now head over to inactive plugins tab,It can be found above the bulk actions option.Select all the plugins at once or select the plugins which you want to delete and perform a delete operation via bulk action option.
Phase 2 :
As you publish more posts and get more comment,the database gets accumulated by unwanted clutters like Post revisions,Automatic drafts,Spam comments and other WordPress options cache.
You can use WordPress plugin called WP-Optimize to cleanup all at once.After installing WP-Optimize you can see a option called "WP-Optimize" at the end of Admin menu(left side).
Now you will get a variety of options to check,check all the fields for a complete clean up otherwise only check Optimize database tables to optimize only the database tables.
Now after performing the process at the end of the page you will get a stats like below
You can disable the WP-Optimize plugin once you optimized the database.It is better practice to optimize the database once a month or two.
For more details you can refer this article: WP-Optimize: A Plugin to Make Your WordPress Blog Clean by my friend Kulwant Nagi of Bloggingcage.
Phase 3 :
Every time you upgrade your WordPress,some old core files which are depreciated will not be deleted automatically,These old core files can be used as a back door for hackers to get access to your blog.
You can use a WordPress plugin called Old Core Files to automatically clean up the old WordPress core files.Download the plugin here,Upload and activate it.
Head over to Dashboard >> Tools >> Old Core files and You can see a list of iles which need to be deleted.If no files need to be deleted then you will get a message like below.
Over to You
Perform the above steps periodically and I am sure it will help you to maintain a healthy WordPress blog.
I am eager to read views about this article below.